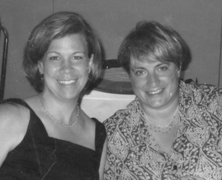 PLAINVILLE INDOOR SPORTS ARENA
The Plainville Indoor Sports Arena has been serving the community since 1991, boasting of an indoor roller and deck hockey rink, complete with heating and air-conditioning for year round comfort. Individual and team statistics are kept and posted for all to see.
Laurie Derick and Sandra Lemieux Cipriano took over the reigns from the original owners, Sandi's parents (Real and Agnes), in 1999. Both women have worked hard on building and keeping the values and philosophies that have made P.I.S.A. successful to this day.
During their tenure as owners of a hockey rink, they have added a definite "women's touch" that most rinks do not have. This has been to the benefit of both the rink and the business. While most hockey rinks are a place to show up, play a game and leave, many players and their families feel comfortable hanging around, letting their kids play and watch other hockey games being played. It is very much a family atmosphere that is both relaxed and enjoyable. Something that is very uncommon at most hockey rinks.
Running a hockey rink has been mostly considered to be a "man's domain". Both Laurie and Sandi have shattered that glass ceiling. In the past years that they have had the reigns of the business, their business has not only remained stable but has grown. When most customers come in to pay and play hockey, they don't look at it as a business run by women, but as a business run by two hockey players who happen to be women. For many years to come, Plainville Indoor Sports Arena will be enriching the lives of children and adults, setting an atmosphere for great sportsmanship and competition.